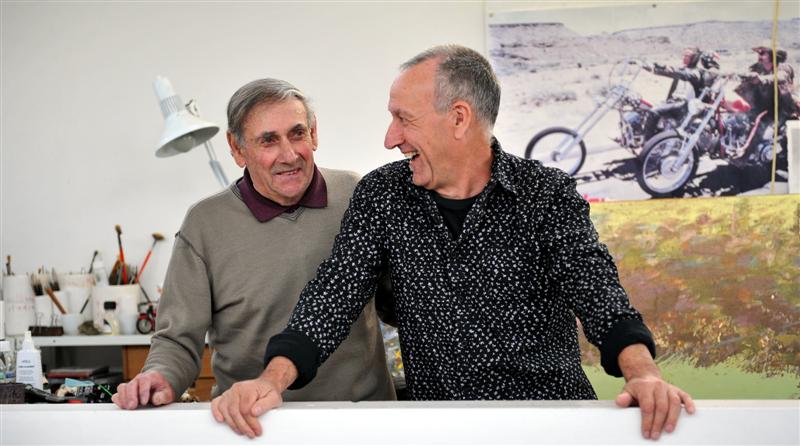 Dunedin father and son Doug and Geoff Williams will exhibit their work together for the first time in about 20 years this month. They chat to Rebecca Fox about their shared love of art.
Source: ODT Thu, 15 Oct 2015
Doug Williams says his son Geoff was born with a pencil in his hand.
"There was possibly something in the genes but there is nothing I could have taught him," the 82-year-old said.
That is doubtful given Doug is a landscape painter who ran a sign-writing business for many years.
Geoff is now a full-time artist while Doug, now retired, enjoys painting as a hobby.
The pair are holding their first joint exhibition in about 20 years to celebrate their long association with the Otago Art Society, which goes back more than three decades.
"Dad took me along to Art Society meetings … 40 or so years ago," Geoff said.
While they share a love of painting with acrylics and of landscapes, their styles are quite different.
"For Dad, it's more about the pleasure and enjoyment, the sheer thrill of painting, whereas for me it's more about the journey."
Doug loves painting landscapes especially of the Mackenzie Country (he lived in Tekapo for a while), Central Otago and Otago Peninsula (he was a longtime peninsula resident).
"I like the water, the boats," he said.
"We're just big kids, really," Geoff, who likes to paint cars, said.
Doug has recently moved to the Andersons Bay inlet area and is hoping to paint it more in the future.
"Since we've moved to town I walk around there each day to keep fit. I love the scenery. It's quite a complicated scene."
He was very modest about his ability but admitted even when on holiday he got a bit itchy if he did not get his hands on a brush after a week or so.
"I'm not that brilliant but it got me through my signwriting."
While large landscapes, especially of the Mackenzie Country, feature in Geoff's work, he is also known for his nudes, cars and signwriting-related works.
Having painted since he was a teenager, he began his art career in his father's workshop creating mural and pictorial works and later took over the family business.
He created murals for the Warbirds and Wheels museum in Wanaka and for a fleet of buses in Queenstown.
"For me, it was 12 years of intensively working on the business."
Things changed when he followed his father to Tekapo and they set up a studio in an old army camp.
"For the first time in my working life there wasn't a phone going 24/7. No-one could contact me."
From there he began to paint full-time, producing mostly landscapes.
He gained great inspiration from a weekend workshop he and Doug attended with the late Canterbury artist Austen Deans.
"Austen was very impressed with your efforts," Doug said of Geoff's work.
Geoff branched out from landscapes over the years, painting friends, family and whatever else inspired him, such as cars in his "realism" style.
"I grew up with cars; I love cars; I was a petrolhead."
One of his large works was the culmination of a trip to Tekapo to watch the sun set over the Dalgety Range, a rare trip away during one of his daughters' illness.
"It's one of my favourite areas. It's serenely beautiful. I took heaps of photos and when I came home and looked at them my car was in many of them.
"To me, the car had just as much relevance to the landscape – it's about the journey there, listening to Pearl Jam. From that point, I started to include cars in my paintings."
His work painting female nudes may not have been inspired by the most noble of intentions, he admitted.
"But working with these people has humbled me."
He was now also drawing male nudes as he loved capturing the human form.
"I'm much better at drawing than I am at painting. I'm partially colour blind so I mix colours basically from the tubes. It gives me a limited palette; I've been using the same colours for 20 years.
"Dad can paint beautifully as he doesn't have the same issue."
These days he also liked to set up scenarios to paint, having been inspired by some random thing he had seen.
A visit to a car workshop with a caravan and a Cadillac parked outside led to his work Trailer Trash.
His love of road trips led to another featuring a red Ford Falcon parked on a road in front of barren hills.
And a few drinks with mates led to his Daytime TV work.
"I set up the scenario but the viewers get to decide what's going on: does it reflect something in their life experience? They tell a story but not the full story."
That passion for setting up a scene led to some "tediously" long processes to get a finished product, he said.
He recently waited three weeks for the right morning of light and stillness at Tomahawk Lagoon, going out every morning hoping for the right conditions to get his father's dinghy, with a koru design attached to the side, reflected in the water.
"It was absolutely perfect; I got nervous and shaky. It all happened at once. It was magic and I got exactly what I wanted. Then the mist crept over the lagoon. It wasn't what I was looking for but I was there for four hours. It was pure magic. It evoked this tranquillity, stillness."
However, he also enjoyed painting objects which reflected his signwriting past such as the "Bubbles" bottles. Doug helped design many of the labels on Lane Thomson products in his day.
"It is a homage to back in the era of signwriting and screenprinting, when there were no computers.
"I grew up in the sign shop since I was a toddler. I like to incorporate a bit of signwriting into my work. It's part of me; it's where I come from."
He was also branching out into some "Americana"-type work featuring images evoking a hard life – guns, cigarettes and whiskey.